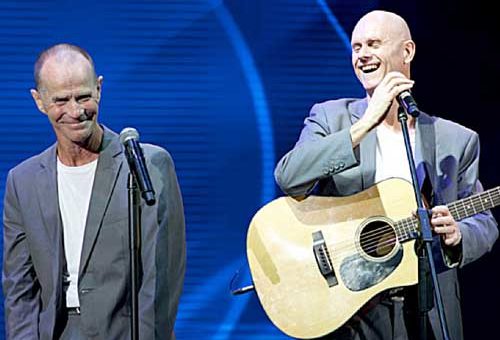 Carpe Idiotus provide Australia's most unique blend of physical and stand up comedy, music, and mime!
The duo became a household name when their performance of The Slinky's rocketed them into the finals of Australia's Got Talent. Subsequent views of the performance sent it viral, with more than 100,000 hits on You Tube in a two week period!
Tony and Dennis fuse their individual talents to create a comedy performance that is at once visually awe inspiring, hysterically funny, and full to the brim with audience participation.
Tony and Dennis' inherent understanding of their audience – and ability to adapt accordingly – has seen them become one of Australia's most in demand acts. They have entertained extremely diverse audiences such as: children on a school holiday cruise ship; a room full of plumbers during their Awards night; doctors at a 5 star dinner function; international television audiences who cannot speak English (but who understand the visual comedy); and retirees at their Probus celebrations.
Now also available with their brilliantly adapted live show with no language (see their promotional video for "Unspeakable Me".
Give them an audience and Tony and Dennis are guaranteed to entertain them, have them laughing and singing along!
Contact Maree Kirkland-Morris at The Peak Agency for further details.