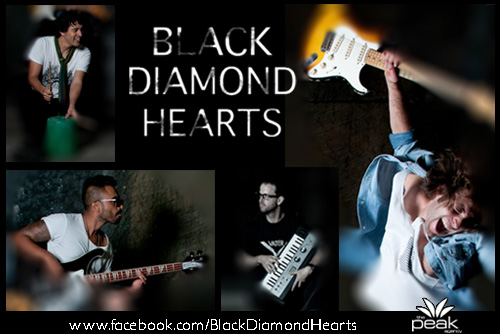 Once BLACK DIAMOND HEARTS hit the stage there is no pause for breath. Prisoners are taken, recycled, revived and churned back out with a wave of rock solid dance floor funk, pop, rock, and rnb. BLACK DIAMOND HEARTS whip a delicious, lusty serve of the coolest latest hits and timeless classics into a banquet of beat. As a live band they strike back at the very heart of the DJ console. They take the best components, identify the energies, embrace the feels and give back a non stop master class of live performance which is manifest by capacity dance floors. Make no mistake, BLACK DIAMOND HEARTS are a live band on a mission. BLACK DIAMOND HEARTS will have us falling in love again. ANDRE KAMAN  –  DAVID ANTHONY  –  JEFF de ARAUJO  –  MARC MALOUF.
ANDRE KAMAN has performed on countless albums, EPs, television shows and stages world wide earning enormous respect and profile and notable wide acclaim for his incredible charisma and voice, He has played many large shows with crowds anywhere up to 50,000 people and an astonishing achievement of 4000+ live performances over his career and counting. Andre has played alongside and supported amazing international and Australian artists, both at home and overseas. Most notable Artists include, Richie Sambora (Bon Jovi), Rockstar Reality show house band, Tommy Lee (Motley Crue), Jason Newstead (Metallica), Gilby Clark (GnR), Slash (GnR), Beyonce's touring band, Ali Campbell ( UB40), Lionel Richie, Paul Mac, Jimmy Barnes and The Potbelleez. Andre is one of the most highly sort after singers and entertainers in the industry. Renowned locally for his many years with the Sydney band, Funkstar and continued live performances with Martini Club and a particular focus for Black Diamond Hearts.
DAVID ANTHONY on Keyboards provides the musical colour that is a feature of every BDH performance.  From supporting the Rolling Stones in Hong Kong, to playing with Slash in Sydney, he has played across the world with incredible local and international  artists including Go West, ABC, Spandau Ballet, Ricki-Lee, 1927, Richard Clapton, Adam Brand, Melinda Schneider, Beccy Cole, The McClymonts, Prinnie, Glenn Cunningham, Michael Paynter, Kate Ceberano, Angry Anderson, Joe Cammileri, Tone De Fresh, Jane Rutter, Mr Wilson, and the Wiggles. The diversity displayed in that list is apparent in the stunning live sounds that his outstanding musicianship brings to Black Diamond Hearts.  David's musical skills include Bass, Drums, Guitar and Keyboards. His understanding and attention to the detail of all the live sounds around him are key to his ability to seek out new arrangements, overlays, accents and walls of sound that he delivers on stage.
Drummer JEFF DE ARAUJO has extensive experience. Since 2000 he has gone from playing the local live pub, club and function scene to playing festivals such as Big Day Out, Laneway, Falls Festival, and Splendour In The Grass to name a few. He has toured every state in the country – as well as playing gigs in New Zealand, London, New York, Austin, LA and Canada. His drumming has taken him to appearances on radio & TV shows like Sunrise Ch 7, The Playroom, Triple J live at the wireless & MTV. He has worked with many local covers bands and original acts live and in the studio. Some of his credits include Sarah Blasko, Mark Wilkinson, Alex Gibson, and he has worked alongside Jim Moginie, Paul McKercher, Sean Carey (Thirsty Merc), and James Englund amongst others. Jeff's love of music brings his attention to connecting with the audience as well as creating a unique experience for the moment – for this reason his love of the smaller club venue doesn't diminish but he is just as comfortable on the big stage. Jeff brings to Black Diamond Hearts his love of all styles of contemporary beat music which is reflected in his hybrid electronic and acoustic drumset (along with the essential cowbell!), and his playing style integrates his influences into a rocking, breaks-loving, genre-crossing beat that keeps the audience in a frenzy of dance and movement mayhem.
MARC MALOUF is one of Australia's rising musical stars and is a force amongst the Australian music scene.  Graduating from the Australian Institute of Music in 2008, with a Bachelors Degree of Contemporary Performance, Marc has established an exciting and successful career as a session guitarist and songwriter working for artists including Hook n Sling, Kylie Minogue, Sia, Namie Amuro, Inna, Chris Brown, One Direction, The Scissor Sisters, Machine Gun Fellatio, Boom Crash Opera, Evermore, The Potbelleez, Mel B, Ricki Lee-Coulter and Timo-matic.  Marc's contemporary approach to his guitar playing has set him in a league of his own, making him one of the most sought after guitarists in the country. He can be found playing across Sydney with his two favourite bands Black Diamond Hearts and the Martini Club for most nights of the week.  Marc is currently playing and endorsing Charles Cilia Guitars, Lovepedal Effects, Morgan Amplification and Jack Straps.
https://www.facebook.com/BlackDiamondHearts
Please contact The Peak Agency for additional information, repertoire lists, high resolution images, promotional material and available dates.